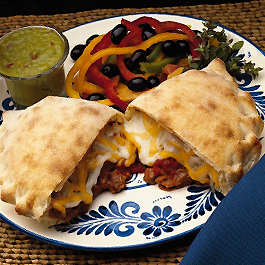 Courtesy of Wisconsin Milk Marketing Board
Servings: 8
Prep Time: 20 Min.
Cook Time: 28-30 Min.
* 1 lb. bulk hot pork sausage
* 1/2 lb. lean ground beef
* 1 can (12 oz.) refried beans
* 1 tsp. cumin
* 1/4 tsp. garlic powder
* 1 pkg. (16 oz.) hot roll mix
* 1 can (14 1/2 oz.) crushed Italian flavored tomatoes
* 2 c. (8 oz.) shredded Wisconsin Monterey Jack cheese
* 1 c. (4 oz.) shredded Wisconsin Cheddar cheese
* butter, melted
* 1 c. guacamole, if desired
1. In a fry pan or skillet, brown pork sausage and ground beef. Drain any fat. Add beans, cumin and garlic powder. Heat through.
2. Meanwhile, prepare hot roll mix according to pkg. directions for pizza crust. Divide dough into 8 pieces. Form each piece into a ball. On a lightly floured surface, roll each ball into a 7 to 8 in. circle. Place dough circles on 2 oiled baking sheets. Place 1/2 c. meat mixture on half the dough circle, to within 1/2 in. of edge. Spoon 2 Tbsp. crushed tomato over meat mixture.
3. Top each calzone with 1/4 c. shredded Monterey Jack cheese and 2 Tbsp. shredded Cheddar cheese. Moisten edges of dough with water and fold circles in half. Press edges firmly together with a fork. Brush with melted butter. Bake at 400░F for 18 to 20 min. or until golden brown. Serve with a side of guacamole.
Blush / RosÚ, White Zinfandel