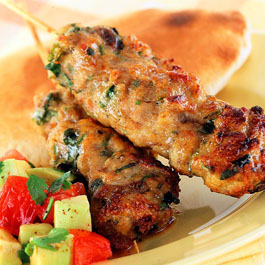 Courtesy of Flour Advisory Bureau
Servings: 4
Prep Time: 15 Min.
Cook Time: 15 Min.
For the Kabob:
* 1/2 lb. minced lamb or chopped chicken thighs (chop in a food processor)
* 3 Tbsp. fresh breadcrumbs (make in a food processor or blender or grate by hand)
* 1 clove garlic, crushed
* 1 small onion, finely chopped
* 1 Tbsp. chopped fresh coriander
* 1 egg beaten
* salt and pepper

Salsa:
* 1 small avocado
* juice of half a lime
* 1/2 tsp. chili powder
* 3 tomatoes, chopped - don't need to skin them or chop them finely
* 1/2 Tbsp. chopped fresh coriander
* 4 pitas
1. Combine all the ingredients for the kabobs and divide mixture into 4. Shape into sausage shapes around the 4 skewers. If the kabobs are not required immediately chill the skewers of meat until required.
2. Grill or barbecue for about 15- 20 min., turning until brown and cooked through.
3. Meanwhile combine all the ingredients for the salsa, season well. Heat the pita and split length-ways. Fill with salsa and the grilled kabobs.

Note: If you are using wooden skewers soak them in water for at least an hour before hand and this will stop them burning when you grill or barbecue them.

* These are great for barbecues, to take in lunch boxes or even as a quick family meal idea.
White Zinfandel, Blush Chablis
Calories: 431;
Total Fat: 16g;
Saturated Fat: 6g;
Total Carbs: 55g;
Fiber: 3g;
Sugar: 6g;