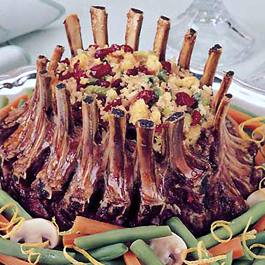 Courtesy of American Lamb Board
Serve With:
Steamed vegetables

and warm dinner rolls
Servings:
8
Prep Time:
30 Min.
Cook Time:
1 Hr.
* 1 American Lamb crown roast
* 1 Tbsp. olive oil
* 1/2 c. finely chopped celery
* 1/4 c. sliced green onions
* 1/2 tsp. ground allspice
* 1/2 tsp. salt
* 2 c. cooked brown rice
* 2 c. cornbread stuffing
* 3/4 c. chicken broth, heated
* 1/2 c. dried cranberries, dried cherries, or raisins, soaked in hot water for 15 min., drain well
* 1 can (11 oz.) mandarin oranges, drained
1. Form each lamb rack into half circle and place together to form a circle, bone-side to center. Tie to secure. Place on a rack in a roasting pan. Sprinkle lightly with salt and pepper. Roast in a 375°F oven for 30 min.
2. In skillet, heat oil over medium-high heat. Saute celery and onion 4 to 5 min., stirring occasionally. Stir in allspice and salt. Toss with cooked rice, cornbread crumbs, broth and cranberries.
3. Spoon rice mixture loosely into center cavity of lamb crown. Roast 20 to 25 min. more or until meat thermometer registers 145°F for medium-rare, 160°F for medium or 170° F for well, and stuffing is heated through. Cover and let stand 10 min. Internal temperature will rise approximately 10°. Garnish with oranges. Cut between individual ribs to serve; serve with stuffing.
Pinot Noir, Merlot, Zinfandel
Calories: 534;
Total Fat: 22g;
Cholesterol: 125mg;
Total Carbs: 41g;
Fiber: 4g;
Protein: 41g;
Sodium: 705mg;